Ik ben echt super enthousiast om dit aan te kondigen! Amilishly Dolls heeft namelijk al de derde druk bereikt en is vanaf nu ook in het Engels verkrijgbaar.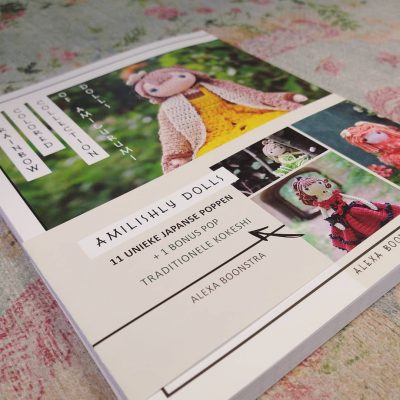 Derde druk!
Ik vind het zo tof om te zien hoe enthousiast jullie worden van de meisjes uit mijn eerste haakboek Amilishly Dolls en dat heeft zich uitbetaald in het verschijnen van de derde druk alweer! Ik vond het al zo onwijs gaaf dat er een tweede druk kwam van mijn boek, laat staan dat ik verwacht had dat het boek een derde druk zou krijgen. Maar toch is het nu zo ver!
Het boek 'Amilishly Dolls – A Rainbow Colored Collection of Amigurumi Dolls' is het eerste haakboek van Alexa Boonstra, beter bekend als Amilishly. In dit boek vind je 11 uitgebreide patronen van mooie, door Japan geïnspireerde, dames én een bonuspatroon geïnspireerd door de traditionele Japanse Kokeshi poppen. Alexa heeft zich voor dit boek laten inspireren op verschillende kledingstijlen die teruggevonden kunnen worden in Japan en daar haar magie op losgelaten. De voertaal van dit boek is Nederlands. De eerste druk van het boek is verschenen op 8 februari 2020, de tweede druk is verschenen in juni 2020 en de derde druk is verschenen in april 2022.
Wil je ook aan de slag met de meisjes uit Amilishly Dolls? Je kunt het boek >>hier<< bekijken en bestellen.
Wil je weten hoe anderen aan de slag zijn gegaan met de meisjes uit het boek? Sluit je dan gezellig aan bij de >>Amilishly Facebook groep<< en bekijk welke poppen anderen al uit de boeken hebben gemaakt.
Liefs,
English Edition!
The wait is finally over! I can finally announce the English version of my book Amilishly Dolls.
The English edition of the book 'Amilishly Dolls – A Rainbow Colored Collection of Amigurumi Dolls' is the first crochet book by Alexa Boonstra, better known as Amilishly. This book includes 11 detailed patterns of beautiful dolls in US English and a bonus pattern inspired on the traditional Kokeshi doll. Alexa worked her magic to create stunning dolls inspired by different fashion styles found in Japanese culture. This book is the US English version. This book appeared on may 12th 2022.
You can order this book via >>this link<< and I wish you lots of fun crocheting all the dolls!
Love,